The E-Cloth is a microfibre cloth that allows you to do clean household surfaces without cleaning fluids -- just water and elbow grease.

Auro make vegetable-based paints, using linseed oil grown within 30 km of their factory.

The Deo-crystal is a deodorant that lasts for years and avoids the toxic ingredients found in most roll-ons and sprays.

Bagless vacuum cleaners use no bags but that saves only the equivalent of a Sunday newspaper a year. Good old carpet sweepers like this Hoky are quick and handy, have no motor and need no electricity.

The Synchilla fleece top by Patagonia is made from recycled plastic bottles.

This finger toothbrush by No-Shank is the most minimal toothbrush I have seen. It's also recyclable.

The SoftAir inflatable chair uses 85% less materials than a conventional chair.

The VW Lupo TDI gets 98 miles per gallon. Run it on biodiesel fuel and you have a very efficient, solar car.

Drying coffee beans normally takes a lot of fuelwood, creating significant deforestation. Solar Coffee is organic coffee that is dried with solar-power.

The World's Best Cat Litter is based on sweetcorn kernels.

Get back into being part of the cycle with a compost toilet like this Envirolet.

Almost any bicycle would make it onto this list, but amazingly there are no bicycles made of recycled materials in solar powered factories. Until someone steps forward, here is the Brompton, a folding bicycle which makes it easier to get onto two wheels as you can take it on the train and store it under your desk.

The Remarkable Recycled Pen is made from a single plastic coffee cup. It also last four times longer than most other ballpoints.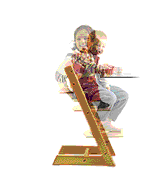 The Tripp Trapp Chair grows with the child, meaning you don't end up with a baby chair you can't use anymore.

Deep E Co Shoes are made from organically-grown leather and wild natural rubber.

Sodasan laundry products come in a modular form so you can tailor them to how hard your water is.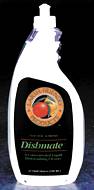 Made by Earth Friendly Products in the US, Dishmate is an ultra-concentrated washing-up liquid that has very basic but effective ingredients: Water, coconut oil derived surfactants, almond oil and cherry oil.

The e.light is a recyclable desk lamp that draws an amazingly low 3 Watts of power and has 93% less mercury than other lamps.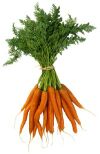 Garden vegetables save a huge amount of fertilizer and pesticide pollution, as well as all the impacts from shipping produce across the country and keeping it cool until it is sold.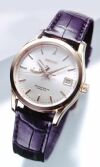 If you were to combine the recycled brass case of the Mondaine Ecomatic Watch with the clever spring drive quartz watch by Seiko, you would have the world's greenest watch.

Prang Soyabean Crayons are made from soy, not paraffin. But they're still GM so there's obviously room for improvement ...

This wool insulation from Construction Resources is collected from Austrian sheep that have not been dipped in any pesticides. The pure wool is simply washed, treated with borax, to make it resistant to fire and insects, then carded like other textiles to produce a fine insulation mat. Easily cut with sharp scissors, the wool is a non-toxic natural material with a low energy manufacturing process and will not produce any irritating fibres or dust.

Fox Fibre is an organic cotton that naturally grows in red, brown and green shades, so no dyes are required. This fibre is made not only into socks as shown here, but also T shirts, baby clothes, dresses, hats and so on.

Trannon furniture like this Folding Chair is made from the thinnings of forests local to their factory, and the steam bending is powered by the waste sawdust.

Sodasan hand soap is made from organic and fairtraded vegetable oils.

Clothes Drying Racks are kinder to your clothes and save masses of energy.

The Space Pen Millennium 2k edition has a lifetime's worth of ink (30 miles), so it's the only pen you'll ever need.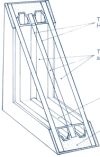 Superwindows use low-e coatings, gas fill, good edge seals, insulated frames, and airtight construction, and then go one better: They have one or two sheets of transparent polyester film suspended between the glass panes. The result is windows that insulate twice as well as the same thickness of fibreglass.

The Ecoflush has high, medium and low settings, allowing you to set the appropriate flush volume for the task at hand, cutting water use in half.

The Th!nk City electric car feels like a "real" car and is very low maintenance, and it costs only 50 cents to recharge the battery -- equivalent to 30 cents a gallon ...

Green People in the UK make a soap bar that you can use on your hair as well, saving packaging. It's made from all vegetable ingredients.

Cooksack owners can go camping without using fuel as it is solar powered.

This toothpaste, also from the Green People Company, contains ingredients anyone can understand, unlike most other brands.

Most traditional dry cleaning systems clean clothes in a chlorinated solvent called perchloroethylene, which is carcinogenic and must be disposed of as hazardous waste. The Hangers franchise cleans instead with liquid carbon dioxide, more than 98% of which is recovered from the process for reuse.

With millions of computers being upgraded every year, what happens to the old ones? New Deal have developed software that allows you to use the internet on very old machines that will not run even older versions of Windows. New Deal is a complete office and Internet suite that will run on any personal computer with a 286 or better processor, 640K RAM, and a hard drive with at least 10MB of free space, giving old machines a new lease of life.

Your final act of recycling will be enhanced by this cardboard coffin, suitable either for burial or cremation.

A library book or rental video will be used by many more people than if they were privately-owned, so maximising the utility of the materials consumed in their manufacture.


Thanks to electricity deregulation, renewable energy is now available to millions of people in the US and Europe through firms such as Unite E and Green Mountain.